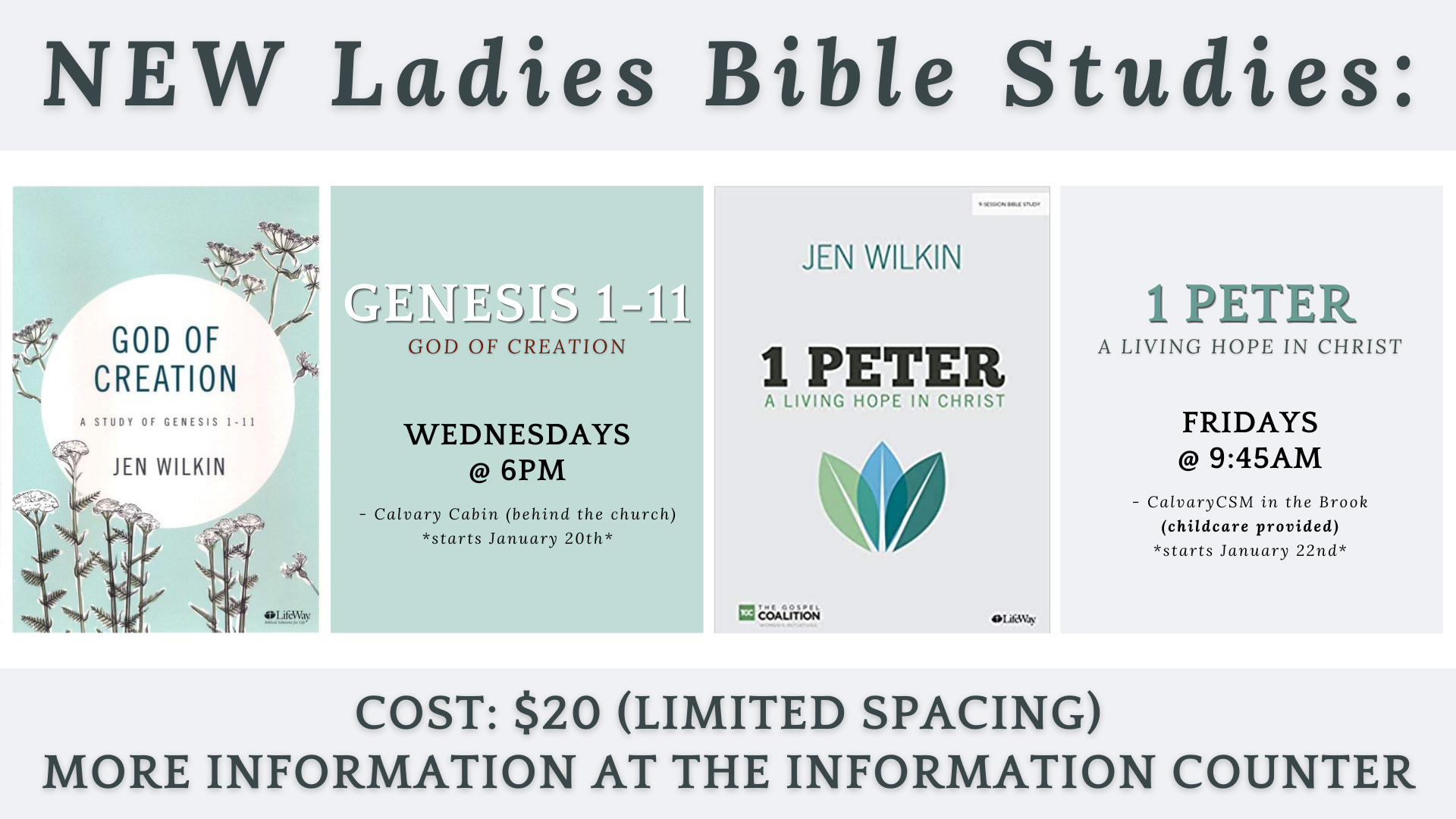 LADIES BIBLE STUDY (1 PETER or GENESIS 1-11: Jen Wilkin) || Ladies, did you make studying the Bible more of a New Year's resolution? CalvaryCSM's Women's Ministry is offering two different studies that are designed to help you discover the Word of God for yourself.  The homework-style (about 1 hour) is to teach you how to independently study a verse by verse examination, allowing God's Spirit to teach YOU first. Then, as we come together as a group, we will enjoy a Jen Wilkin video-teaching and break into groups to share with one another.
With social distancing in mind we have limited space in our homes and space will be filled on a first come basis. Both studies at the church will follow the same social distancing guidelines, but with more space we will not be limited in available seating. 
The cost $20 and you can sign up at the information counter.  You will receive your study book at the first session.  You may do both studies if you are interested!
---
1 Peter Meeting Times:

Fridays @ 9:45am (starting January 22nd): CalvaryCSM with childcare; led by Polly Williams, Allison Powers, and Jenny Houston; time of worship, video, and small groups.
1 Peter: A Living Hope in Christ: "Our inheritance through Christ is imperishable, undefiled, and unfading. In 1 Peter, a man of faith and flaws and eyewitness to the life of Christ challenges us to look beyond our current circumstances to a future inheritance. He shares his concerns on big picture issues for the early church, describes believers' true identity in Christ, and ultimately helps readers discover what it means to experience the Living Hope they have in Christ. Key themes of humility, submission, and identity in Christ guide the study of 1 Peter."
---
Genesis Meeting Times:

Wednesdays @ 6pm (starting January 20th): Calvary Chapel Cabin behind the church (same time as middle & high school youth groups); led by Stacy Chapman and Kristen Salsameda
God of Creation: A Study of Genesis 1-11: "The opening lines and chapters of Genesis teach us fundamental truths about God. We watch Him bring light after darkness, order after chaos, and rest after toil—all through the power of His Word. Revisit familiar stories and historical figures, challenge your basic knowledge, and discover deeper meanings in the text. As God reveals Himself through Scripture, we can only begin to understand ourselves when we first glimpse the character, attributes, and promises of our Creator."