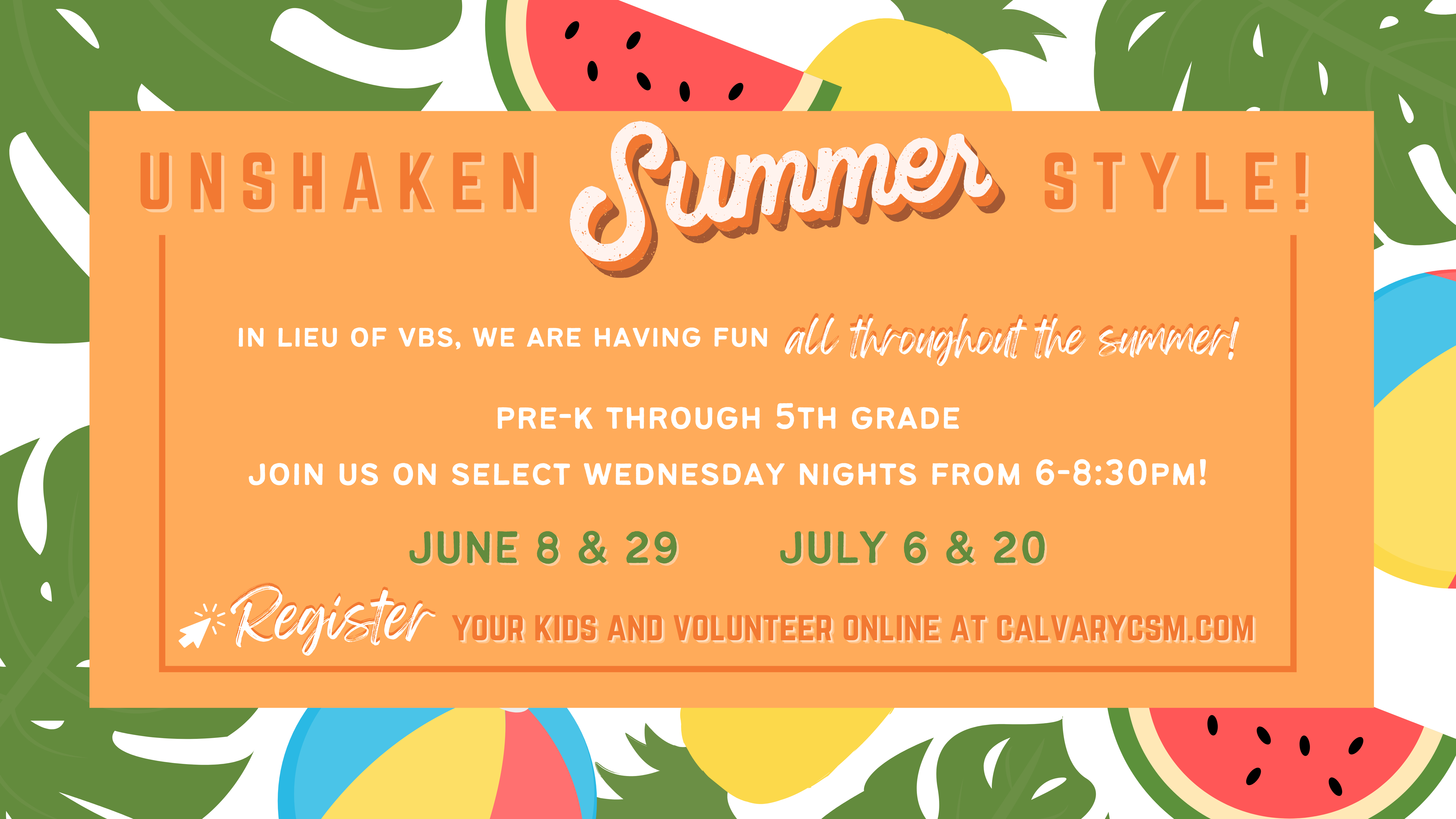 Yay! Thanks for volunteering for Unshaken Summer Style! We need LOTS of help to make these nights safe and fun for all the kids that are coming.
If you have any questions you can email me at [email protected] or call the church at 770-736-2828.
Register yourself as a VOLUNTEER by filling out the information below!
Art with Local Artist Gabby Jarrett
If your skills in art are a little more advanced, and you're ready for a new challenge, sign up for art with Gabby. More information coming soon!
Cooking for Kids with Amie Davie and Jenn Cole
Some people get their joys working in the kitchen! If making good food is your passion, then Mrs. Amie and Mrs. Jenn are your people! Join them for VBA to learn some cooking skills, and put together some delicious snacks!
Crafting with Kristin Barton
Creating things with our hands can be a joy for people! And if its a joy for you, then come with Mrs. Kristen and walk away with something created by you! Use the creative spirit that mirrors God's creative spirit!
Photography with Alli Taylor
If you can see beauty where others often can't, you may have an eye for photography! Mrs. Alli will be leading a class in photography with "old-school" cameras, and a heavenly emphasis! Enjoy capturing God's creation, and seeing His beauty all around us.
Sports with Andrew Taylor
If running, jumping, kicking, and swinging are more your style, then Mr. Andrew's sports class is for you! Learn new skills, and experience a little competition, but learn that winning and losing are slightly less important than doing your best. And remembering that ALL our talents come from God.
Drama with Scott Baxter
If you have a flair for the dramatic, and love to be in the spotlight, then Mr. Scott's drama class is for you! Spend the two days learning stage directions, and acting skills, as well as preparing a drama to be performed at VBA!
Science Experiments with Jackie Riddle (completed 3rd grade-completed 5th grade)
It's not magic, its SCIENCE! If you love experiments, watching things explode, or figuring out how things work, then THIS is the class for them! Mrs. Jackie will lead the kids in learning new scientific discoveries and how our God is the God of science as well!
Gardening with Cheryl Anderson
Do you have a green thumb? Love getting your hands dirty? Mrs. Cheryl will be leading kids in planting a garden on the church grounds and teaching them about seeds, soil, and the power and creativity of the great God that we serve.